Pisa and the Leaning Tower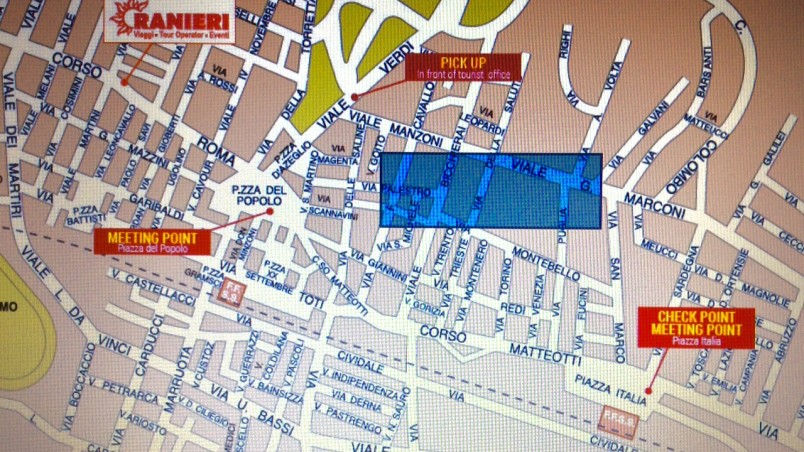 Operation Days: Monday, Wednesday, Friday, Sunday.
This excursion, to be confirmed, requires a minimum number of 2 people
Price: € 45
(Infant 0-3: free; Child 4-12: € 28)
The rate includes: taxi from the hotel to the meeting point and back; transport by bus; tour escort and local guide in Pisa; entrance fee to the cathedral.
Supplement for exclusive entrance to Leaning Tower (possible only in the morning half day tour):
Adults: € 20; Child 08-12: € 10 (entrance not allowed for children < 8 years).
Meeting point with the guide: Montecatini Terme – Piazza Italia – Check Point
Starting time of the tour: 9:15 a.m.
Duration: about 4 h
A delightful excursion to the splendid city of Pisa, famous for its architectural beauties. Once arrived in Pisa our guide will lead you to the famous Miracles Square, explaining the wonders of this square.
You will admire The Leaning Tower (exterior), the Baptistery (exterior) and other beautiful monuments before entering the Cathedral (interior).
At the end of the guided visit you'll have free time for taking pictures and shopping, before coming back to Montecatini.
RANIERI
Travel – Tour Operator – Events
Phone: +39 0572 904060
Fax:     + 39 0572 906012
www.ranieritouroperator.com
Many thanks and nice trip!
< Comeback to the article list
CITY TOURS & EXCURSIONS
From Montecatini Terme
MONTECATINI FIRENZE PISTOIA PISA LUCCA CINQUETERRE SIENA SAN GIMIGNANO CHIANTI
Regular tours with guaranteed departure (with only two people)
________________________
DAILY TOURS to Venice and Rome
________________________
RANIERI
Viaggi TourOperator Eventi
Corso Roma 52/54
51106 Montecatini Terme (PT)
T +39 0572 904060
F +39 0572 906012
www.ranieritouroperator.com
OPEN TIME Ranieri T.O.:
Monday to Friday: from 9:00 a.m. to 1:00 p.m. and from 3:30 p.m. to 7:30 p.m.
Saturday: from 9:00 a.m. to 12:30 p.m.
CLOSED: Saturday afternoon and Sunday.
SPECIAL PRICES FOR GROUPS
PRIVATE GUIDED TOURS
CUSTOMIZED SERVICES
CONDITIONS
Guaranteed departure: the departure of the escursions is guaranteed with the achievement of the minimum number indicated in each excursion and with pre-booking of 48 working hours before the starting of the service. Bookings are subject to place and language availability.
Multi-language guide: the service is produced for international market. On the same tour there could be people of different nationalities the tour escorts and guides will be multi-languages speaking; the explanation will alternate in the different partecipants languages.
Closed date: 1st of May
Payments: at the reservation
Cancellations: 100% of penalty if the service is not cancelled before 5 working days the start of the service.